The Station Coffee House & Gallery | 2015
ART Exhibitions
• See previous exhibitions
2009
|
2010
|
2011
|
2012
|
2013
|
2014
|
2015
|
2016
|
2017
January 1 to January 31st
Rob Michalchuk
About Rob Michalchuk
Born in Brantford in 1976, raised in Burford, a rural Brant County tobacco farming community where he spent most of his early life before moving on to Brantford, later to Hamilton, Toronto and finally back to Brantford. Referred to usually as a musician before being considered a visual artist. Rob started his early musical training in 1988 with the Brantford Telephone City Musical Society playing alto saxophone and had private lessons on the piano studying Royal Conservatory level material.
It was not until 1993 that Rob started to preform his musical abilities live in a local Brantford punk music group called Cartoon Khaki until 1997. Rob took a creative hiatus between 1998 til 2003 then started to preform solo starting with his performance art, noise music project Food. Food acted as a gate way to other esoteric-abstract sound projects often collaborating with other Brantford artists in duet performances. Eventually this lead him to becoming a regular satellite member of the Hamilton based experimental sound group Fossils which has taken Rob on tour through Southern Ontario and through the East Coast of the United States several times.
It was not until 2007 that Rob started to focus his skills on creating visual art. Throughout the years he has always made artwork in numerous different styles which were most often used as artwork for music releases. Creative photography was Rob's start in the visual art field having completed his Certificate of Applied Photography through Mohawk College. Being frustrated with the limitations of photography Rob started to paint abstract pieces of work paint and collage and at the same time digital collage. Rob has also been keen to exploit the limitations of older technology in unusual ways in utilize that exploitation in his digital collage or photography which are display in this exhibition.
As well as being a musician Rob also runs his own music label called Poor Little Music since 2007 which has focused on experimental and obscure forms of musical art, pulling in talent from Europe and North America. Rob's label has been releasing music as either standard albums or making them into pieces of art; a small example is shown in this exhibition.
Rob's involvement in the community of Brantford stems into historical veins first from working at the Brant Museum and Archives for five years as their collections manager and also secondly from volunteering his time at the Personal Computer Museum since 2005. His love for history has spurred an interest in preserving the history of local Brant County musical artists for which he has been actively collecting and documenting information on since he started to preform live in 1994.
Be it an artist in the visual sense, musical sense or the written sense Rob continues to push his creative boundaries and is consistently exploring new ways of creating and delivering his artistic talent. This exhibit it is a symposium of the many different styles of art that Rob has produced over last several years.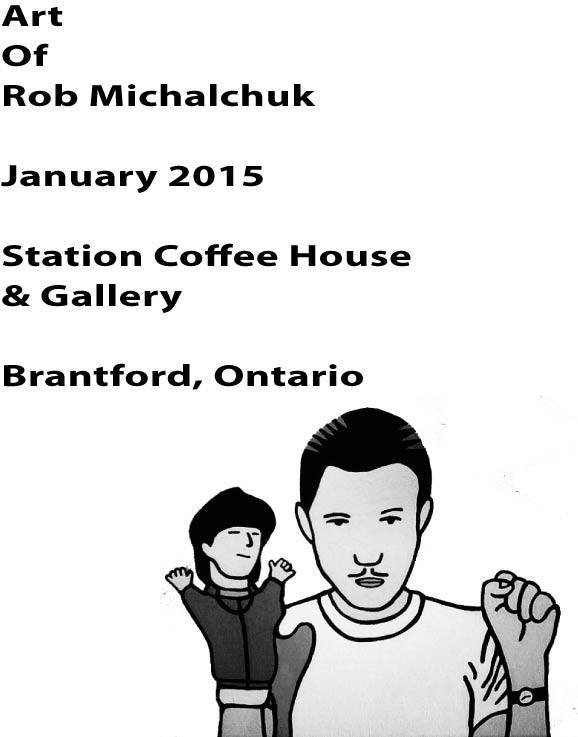 March 1 to March 31st
Dellisart
An eclectic collection of complicated madness.
Dean F. Ellis a fourth generation artist with a degree in Fine Art from the University of Guelph. His working career has been as a local graphic and design artist for over 30 years. In addition to his commercial work, the "Fine" arts have always been a part of his life. Although no longer participating in the graphic art/design fields on a regular basis he never lost the love of art in any form. He works primarily in two dimensions (Paint or Pen), but also enjoys working in three dimensions as well (wood, stone, and metal).

"It's never been about the meaning and/or authenticity in my work, it's just always been an integral part of me since day one. Primarily, loving what you do is first, and what the world likes comes second. Being willing to occasionally try something different makes it interesting as well. If I want to make a statement about something then that's what I do. It's the process that I love and because of that, I can lose myself in it. Art has always been, and always will be, a big part of my life. My art is not done on any grand scale, in fact, most of it is actually quite small, but it will always be a reservoir of my heart and mind, open to any who wish to see it".
His artistic interests are almost as varied as there are art forms, such as:
Painting: Oil, Acrylic, or any other type that might strike his interest.
Pen and Ink: Includes illumination, Logo, Decal, and Tattoo design
Photography: Traditional and Digital.
Three Dimensions: Stone, Wood, Clay, Silver, Copper, and Bone.
Written Word: Poetry, Stories, and Thoughts made Public
He has previously exhibited artwork in Montreal PQ (Royal Bank Permanent Collection), Toronto ON (University of Toronto), Simcoe ON (Linwood Art Centre), Brantford ON (Glenhyrst Art Gallery and The Art Gallery of Brant), Guelph ON (University of Guelph, and the McDonald Stewart Gallery), London ON (University of Western Ontario), Detroit MI (Mohl Hole Gallery).
April 1 to April 30th
Brant Visual Artists Guild, Spring Art Show 2015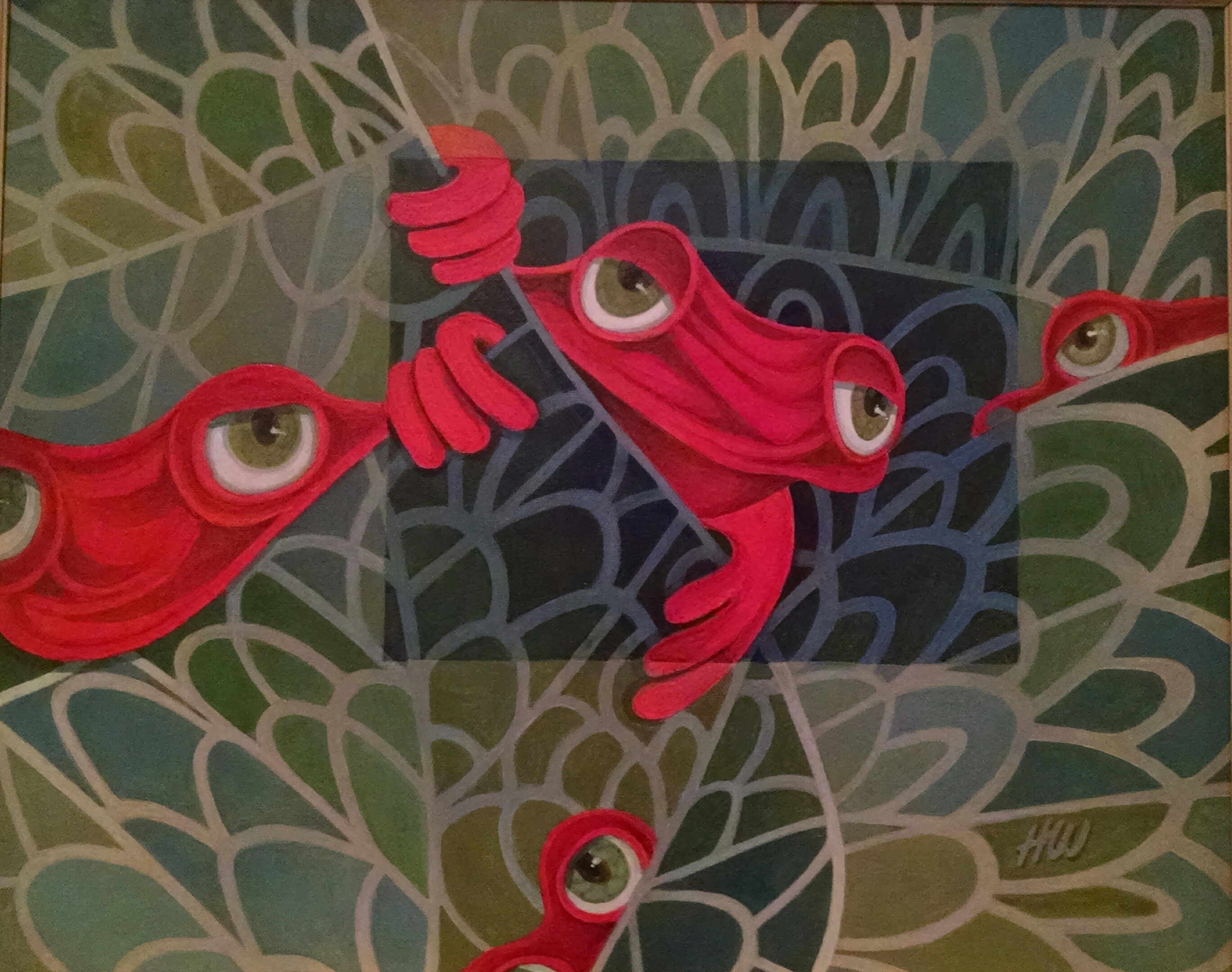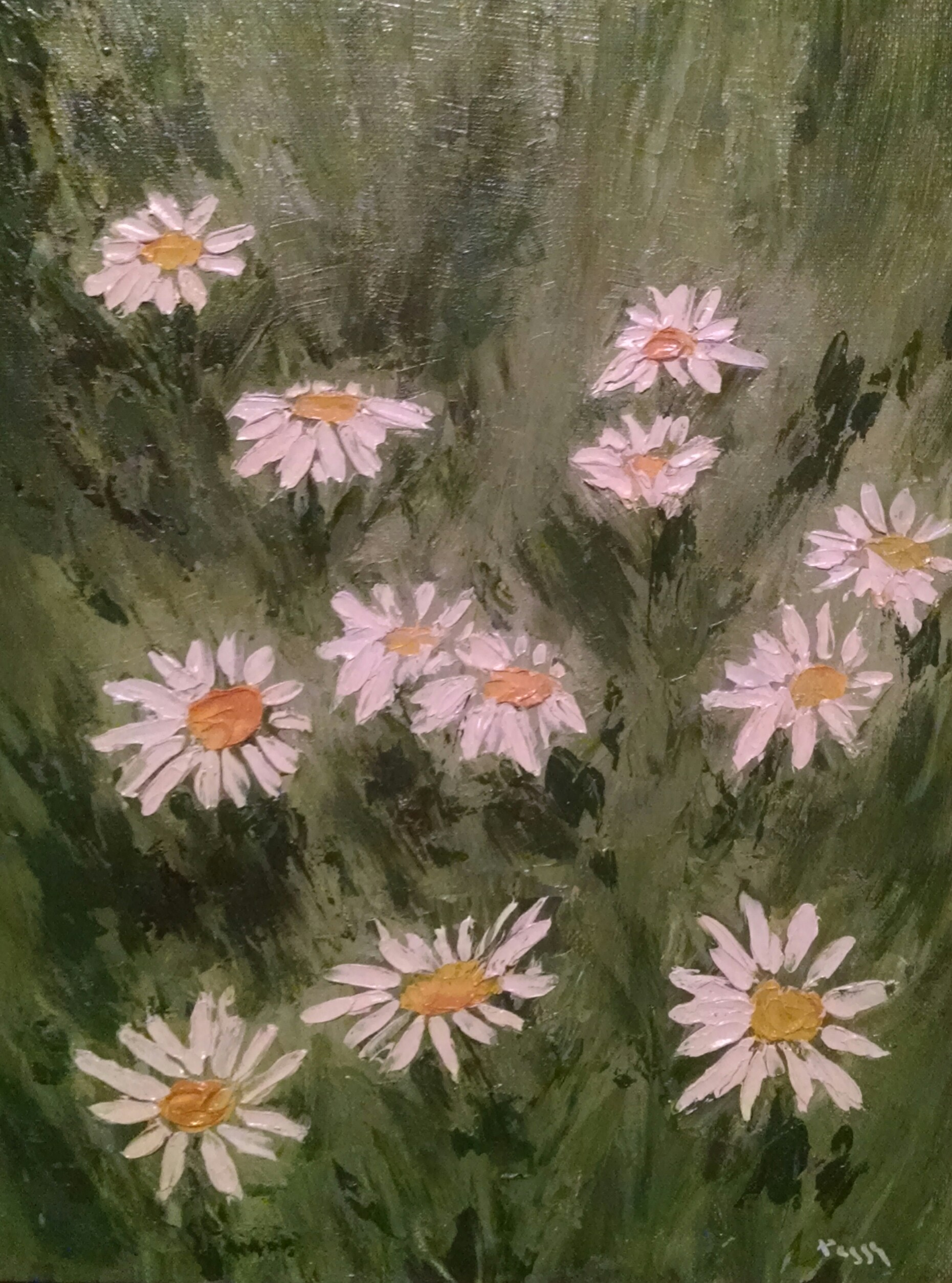 May 1 to May 31st
"BIKE SHOW" by Hendrik Lenis
Official opening reception May 3,1-4pm

Bike Show will feature original pencil drawings inspired by Friday the 13th motorcycle events that take place in Port Dover,Ontario.As part of the official opening on May 3,the newest drawing "Iron Zebra" will be unveiled by Kitchener biker Zebra Lady (Wanda Patrick).

Hendrik Lenis is 75 and lives in Brantford. He came to Brantford from the Netherlands when he was 10 years old arriving at the Brantford CNR Station (site of this new exhibit).Lenis has been an artist all of his life and has work in many varied collections, both locally and abroad.

Live music will be performed by London On. band , Olivia and the Creepy Crawlies

For further info, Mike Tutt (Station),(519)209-8002,Hendrik Lenis (artist) (519)304-5811,Wanda Patrick (Zebra Lady) (519)577-6953.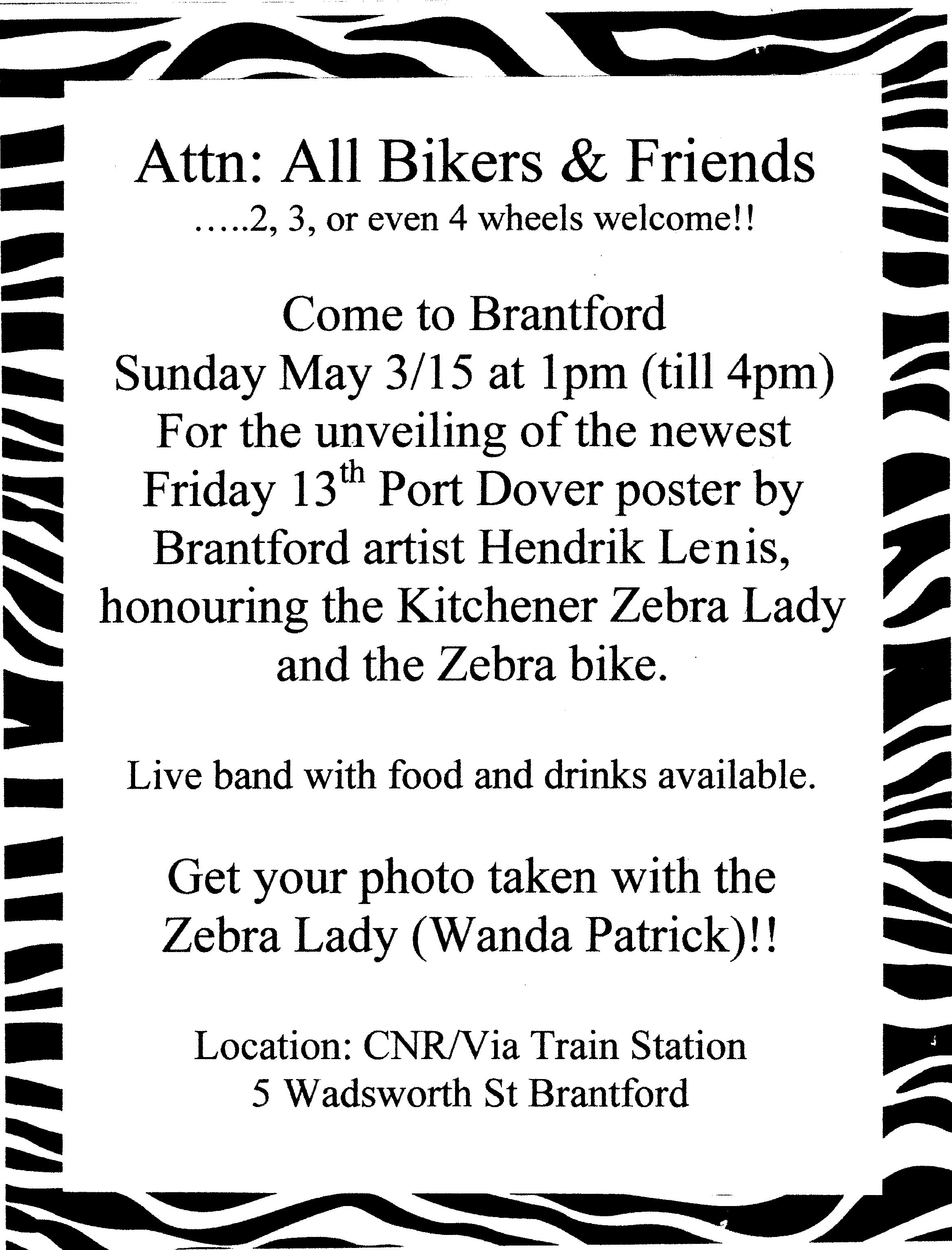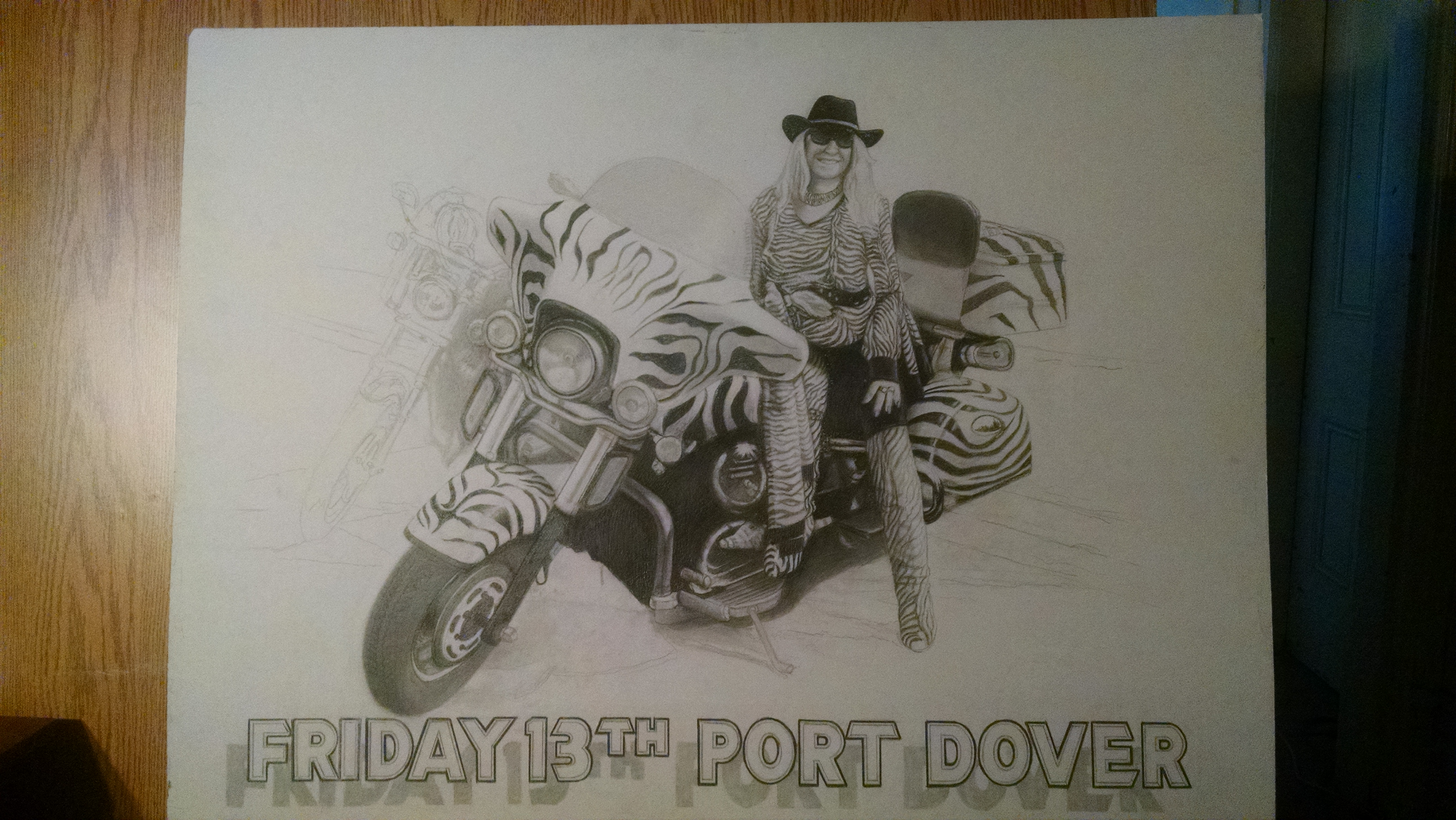 Jun 1 to Jun 30th
Lise Bennett - HDaRtist
The Brantford Station Gallery is pleased to present the photo generated art work of Lise Bennet for the month of June 2015.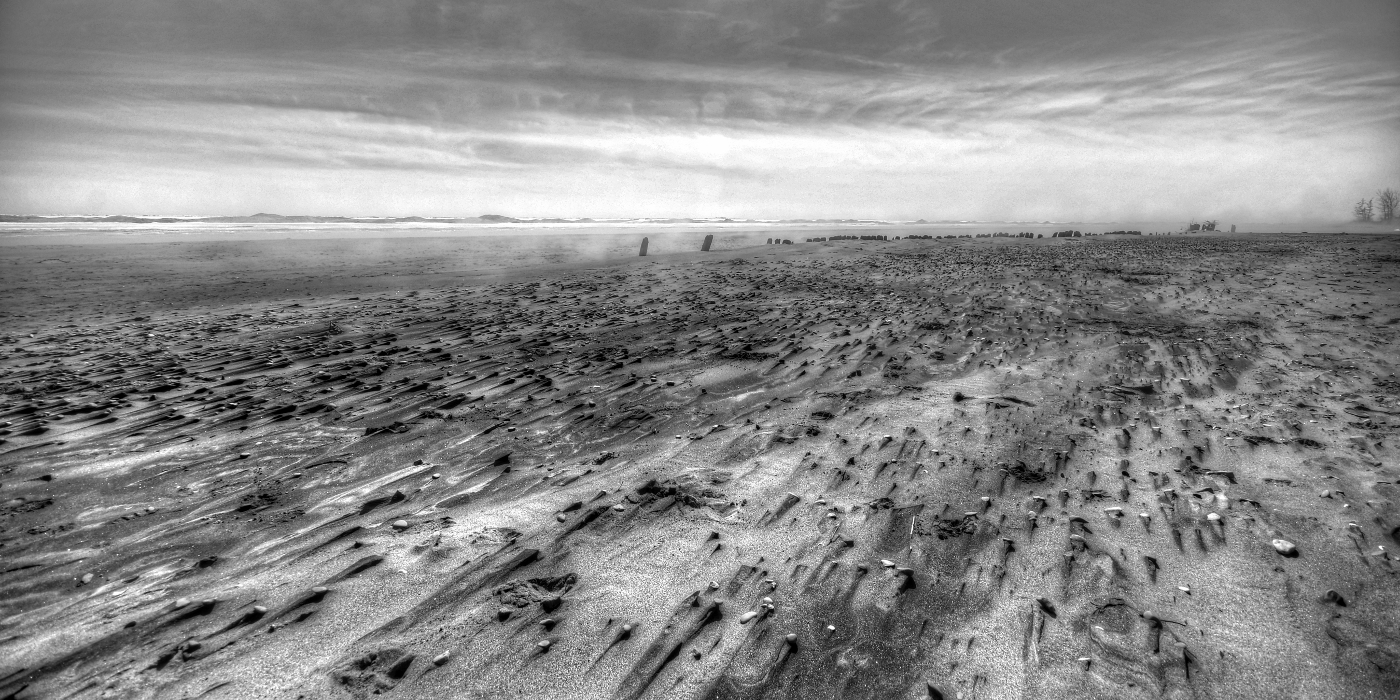 The Station Gallery's Featured Artist for the Month of June is Lise Bennett.

Lise's Opening Reception will take place on Saturday June 6th from 2-4 pm, she will meet and greet with Gallery Patrons. Lise works predominantly in the medium of Fine Art Photography; with her current works specializing in HDR (High Dynamic Range).

Lise is the Newest Artist on the Brant Studio Tours, with her home Studio Gallery in West Brant; where she will be welcoming visitors during the tours on the weekend of October 3-4, 2015. The Studio Gallery is also open by appointment to the public during other times of the year. Lise is happy to be participating in the first "Brantford First Fridays" event. The Station Gallery will be open for this event on Friday June 5th. The Evening will start at 7pm and continue into the evening.

Lise has been in several concurrent art shows over the last year, including several group shows at The Art Gallery of Burlington. A group show at McMaster Innovation Park in Hamilton, and The Art Emporium in Port Stanley. Lise has participated in several shows in Brantford, including The yearly Snow Show at The Station Gallery, a Solo show at The Blue Dog, her solo show last year at The Station Gallery, and The Family Day Art Show and Sale at Glenhyrst.
www.lisebennett.com
Jul 1 to Jul 31st
David Irvine
The Station Gallery's Featured Artist for the Month of July is David Irvine.

David Irvine has been refining and pushing the boundaries of "redirected" art with a unique and original spin almost as long as his good friend, Marcel Duchamp. David's quirky and very popular style is created by repurposing unwanted prints or original art from thrift stores or found at yard sales and painted upon using his own style of creativity. Seemingly random subject matter including pop cultural references, political comment, the camp and the absurd, often combining all these elements to create truly original art pieces.
David as well does his own 'entire' work, which dips into the pop art and dark surreal themes.
Over the years David's work has gone viral multiple times thanks to social media websites and personal celebrity endorsements like George Takei. A direct result of this coverage has been a rise of collectors from Australia, Europe, Japan and the United States.
Prints and other merchandise of Irvine's work is available for purchase on Redbubble http://www.redbubble.com/people/gnarledbranch and originals can be viewed on Etsy https://www.etsy.com/ca/people/TheGnarledBranch as well as his personal website www.gnarledbranch.com
Media / Print References


In Touch Magazine - http://www.intouchweekly.com/posts/artist-from-the-gnarled-branch-recreates-thrift-store-paintings-by-adding-movie-characters-check-it-out-41222
Swallow Daily - http://swallowdaily.com/2014/08/small-town-artist-goes-viral/
HLN TV - http://www.hlntv.com/slideshow/2014/07/30/thrift-store-paintings-david-irvine-gnarled-branch
George Takei - http://instagram.com/p/rSy-Y-uTRS/
Yahoo News- https://screen.yahoo.com/artist-remixes-thrift-store-paintings-215032987.html?soc_src=default
The Observer (UK) - newspaper interview
Guardian UK - newspaper review
Media Appearances
CP24- in studio interview
Innerspace via The Space Channel - program segment
CHCH TV - in studio interview
For more information, please contact David Irvine at info@gnarledbranch.com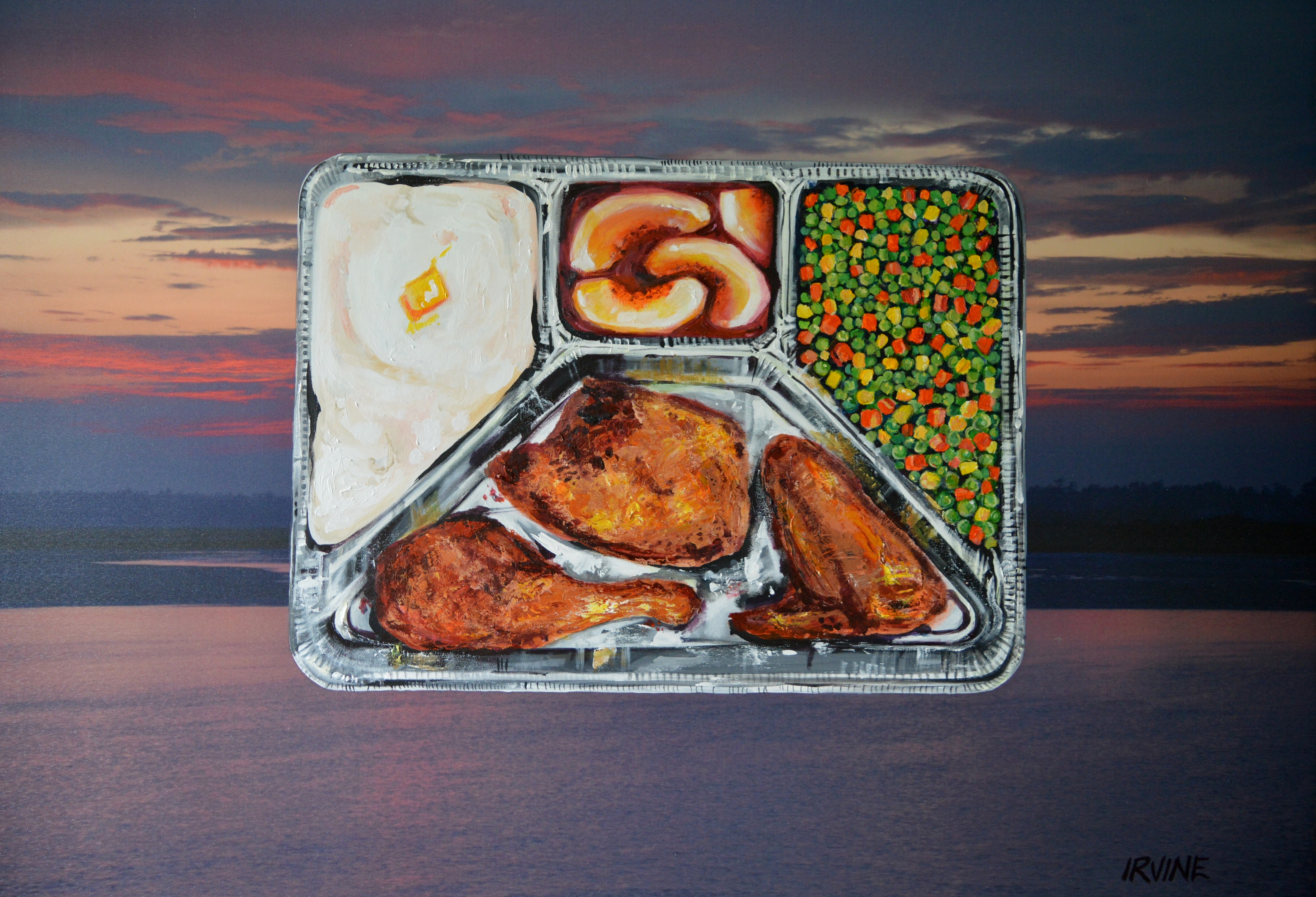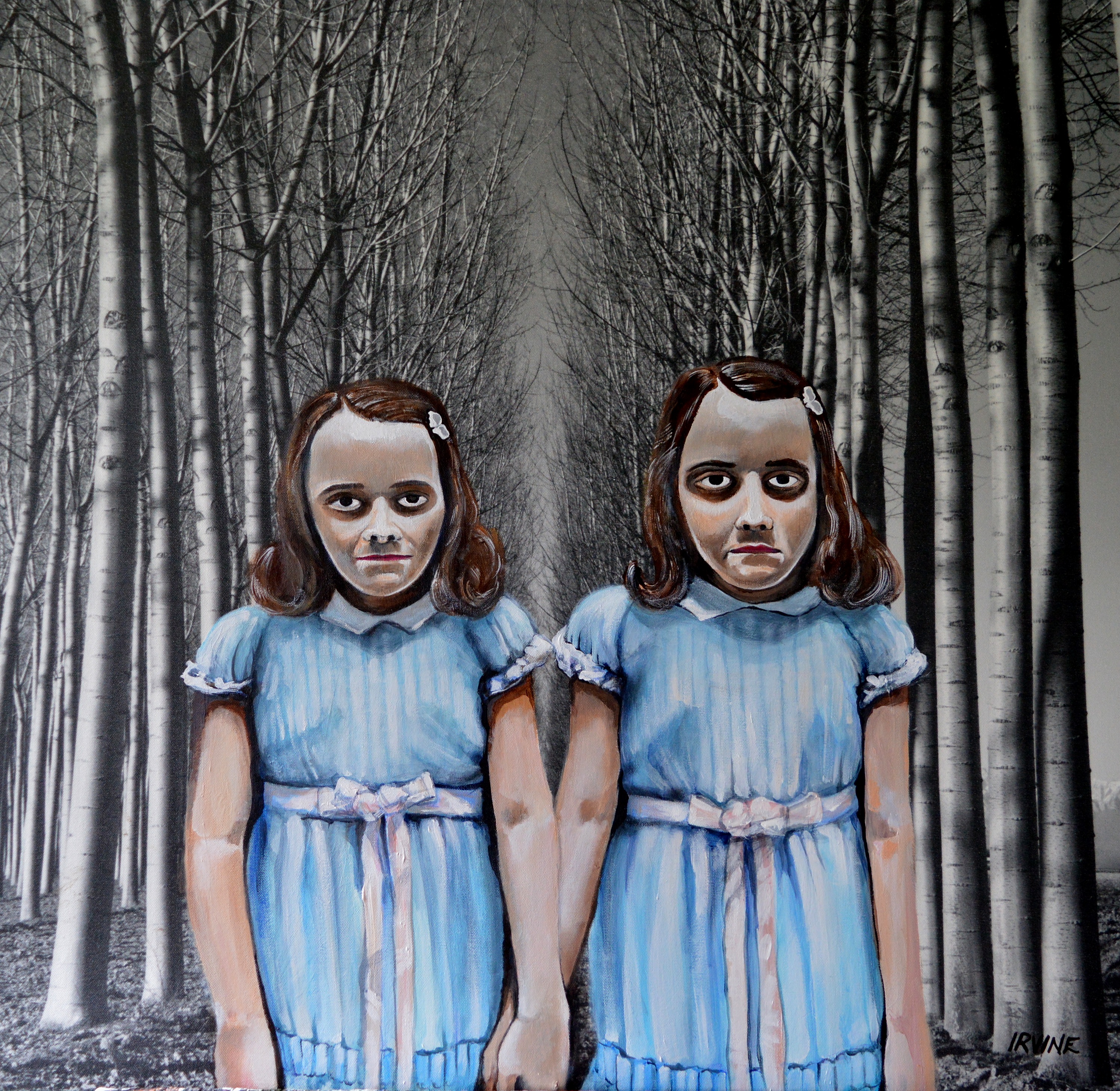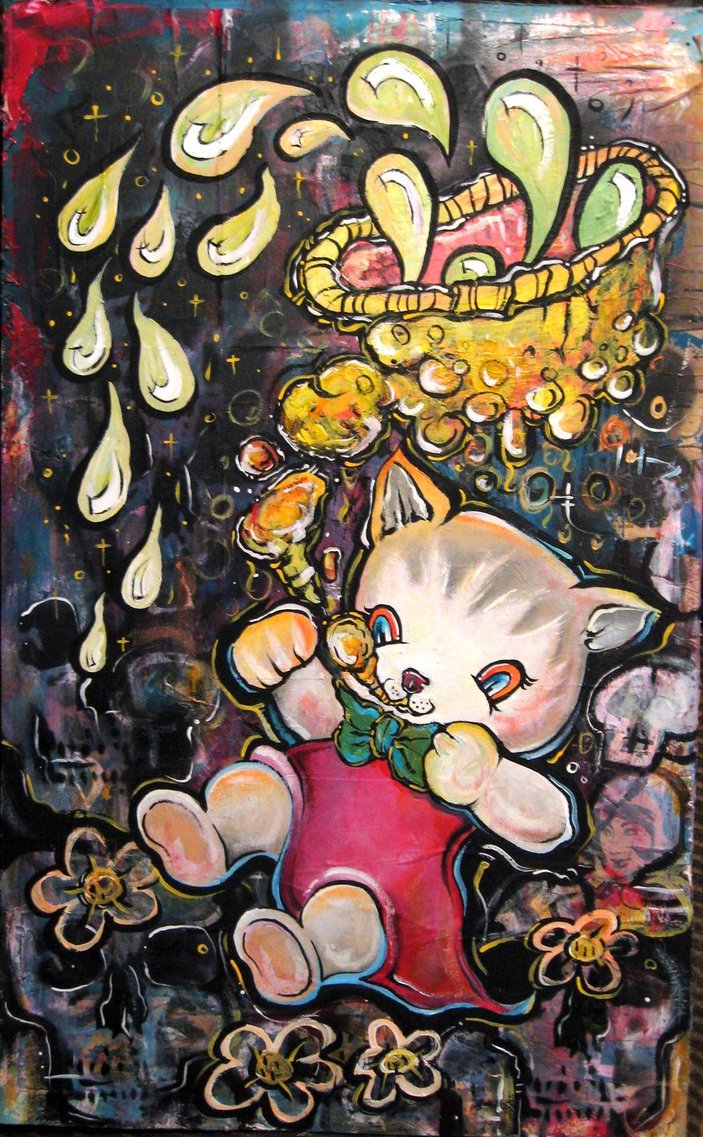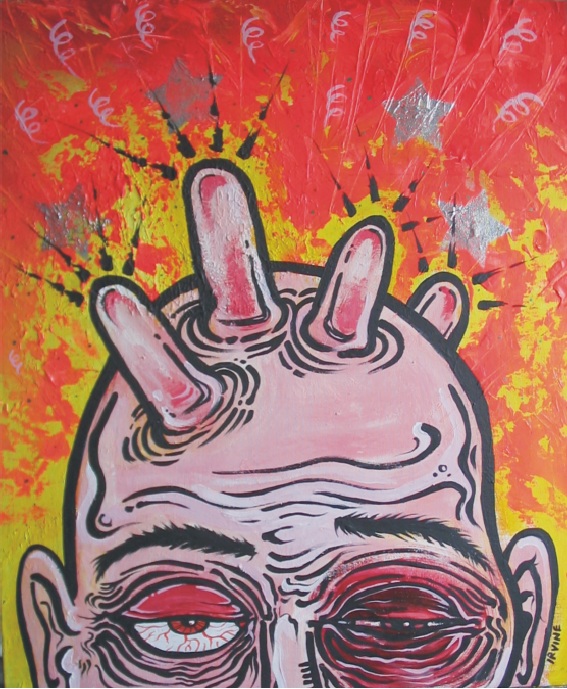 Aug 1 to Aug 31st
Rob Boerboom
The Station Gallery's Featured Artist for the Month of August is Rob Boerboom.

Rob Boerboom is a painter who lives and works in Brantford. He is currently developing ideas from sometimes obscure and sometimes everyday items. Expressing these ideas using an acrylic and gel medium system, with an emphasis on representational imagery.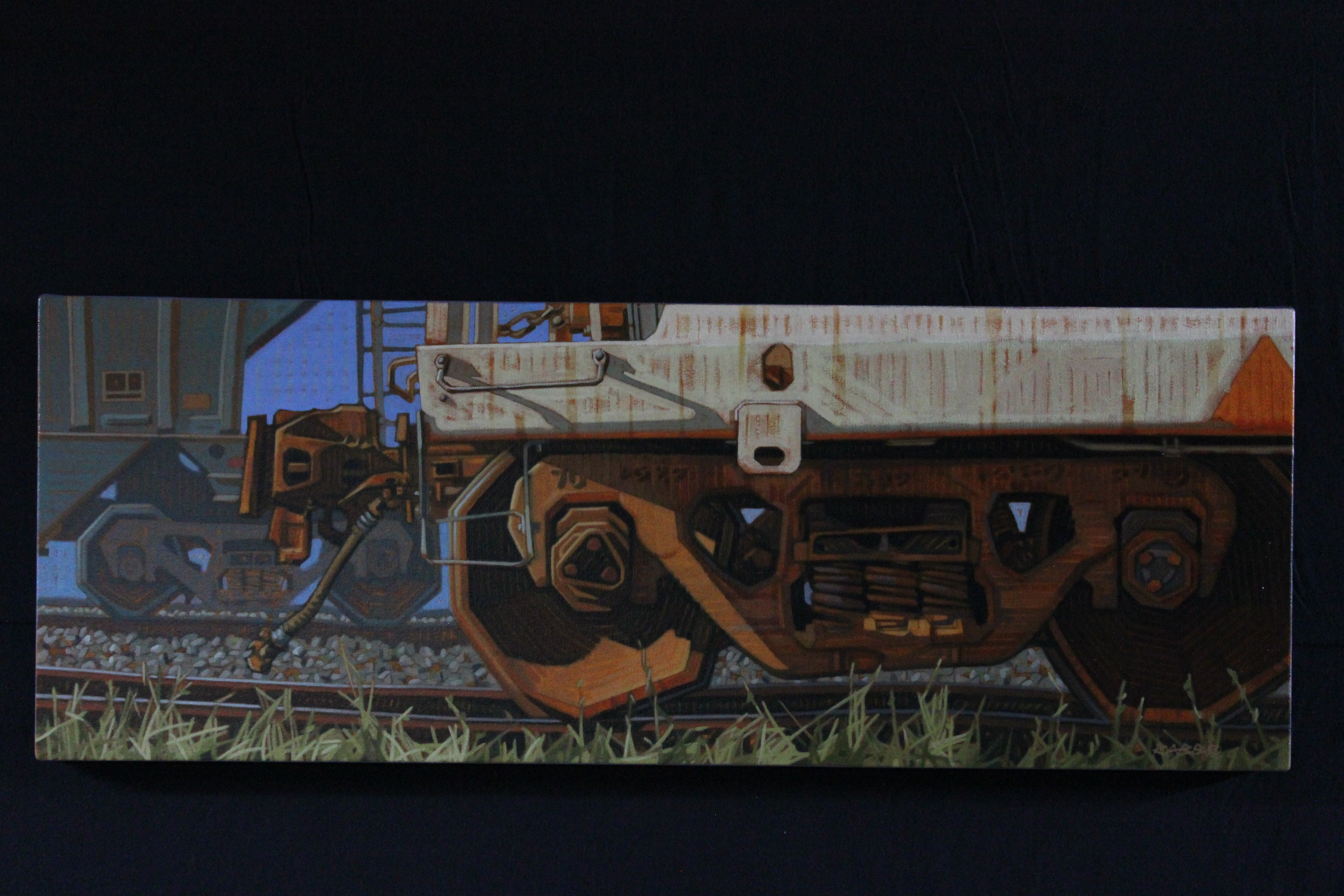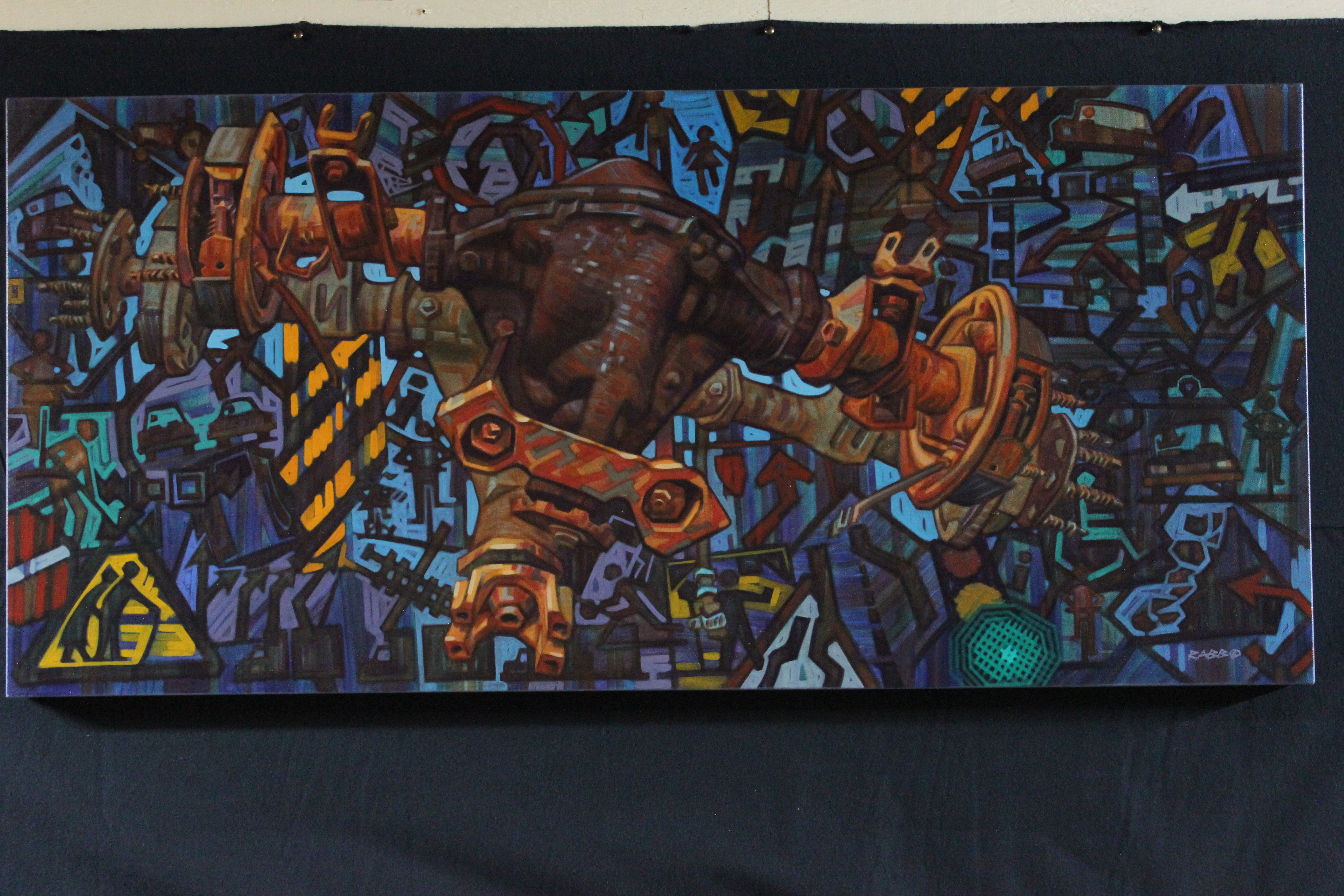 Oct 1 to Oct 31st
Summer Mortimer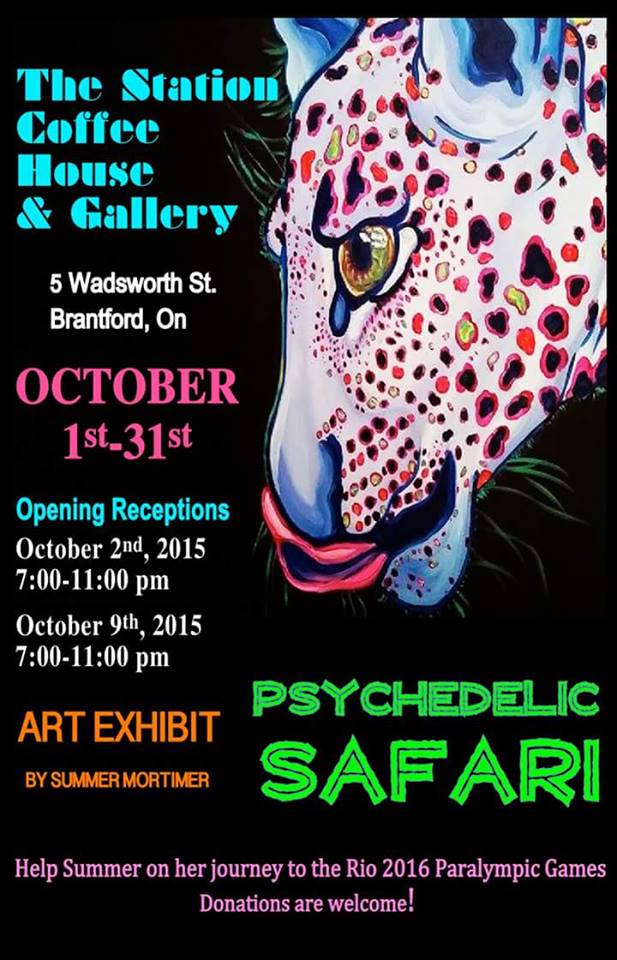 Summer Mortimer
b. 1993, Burlington Ontario
Working predominantly in the medium of acrylic painting, Summer has a unique eye for colour. She usually creates privately commissioned paintings, with the core focus on its vibrancy and colour. Her love for Disney and anything with a pop art or cartoon like style has sparked her palette and line work, which is extensively shown in past murals she has accomplished. Summer redefines all she has known on canvas in a grande wild safari theme.
Alongside her love of art, Summer has other passions as well. She has an extensive international swimming career, breaking numerous World Records, and winning five World Championship titles and four medals in the London 2012 Paralympic Games (2 Gold, 1 Silver, 1 Bronze). She is currently enrolled at Mohawk College in their music program as a Vocal Performance major. Summer's exhibit is also aiding in her next swimming journey, competing in the Rio 2016 Paralympic Games.
That is my biography. My art style has a key focus on vibrancy, colour, and expressionist lines with a twist of pop art. My upcoming gallery, Psychedelic Safari, is my take on animals that I love and that would be in my own personal safari. This series of paintings will allow people to take a gander through my imagination and see animals depicted in the way that I envision them and their personalities.
summer.mortimer@hotmail.ca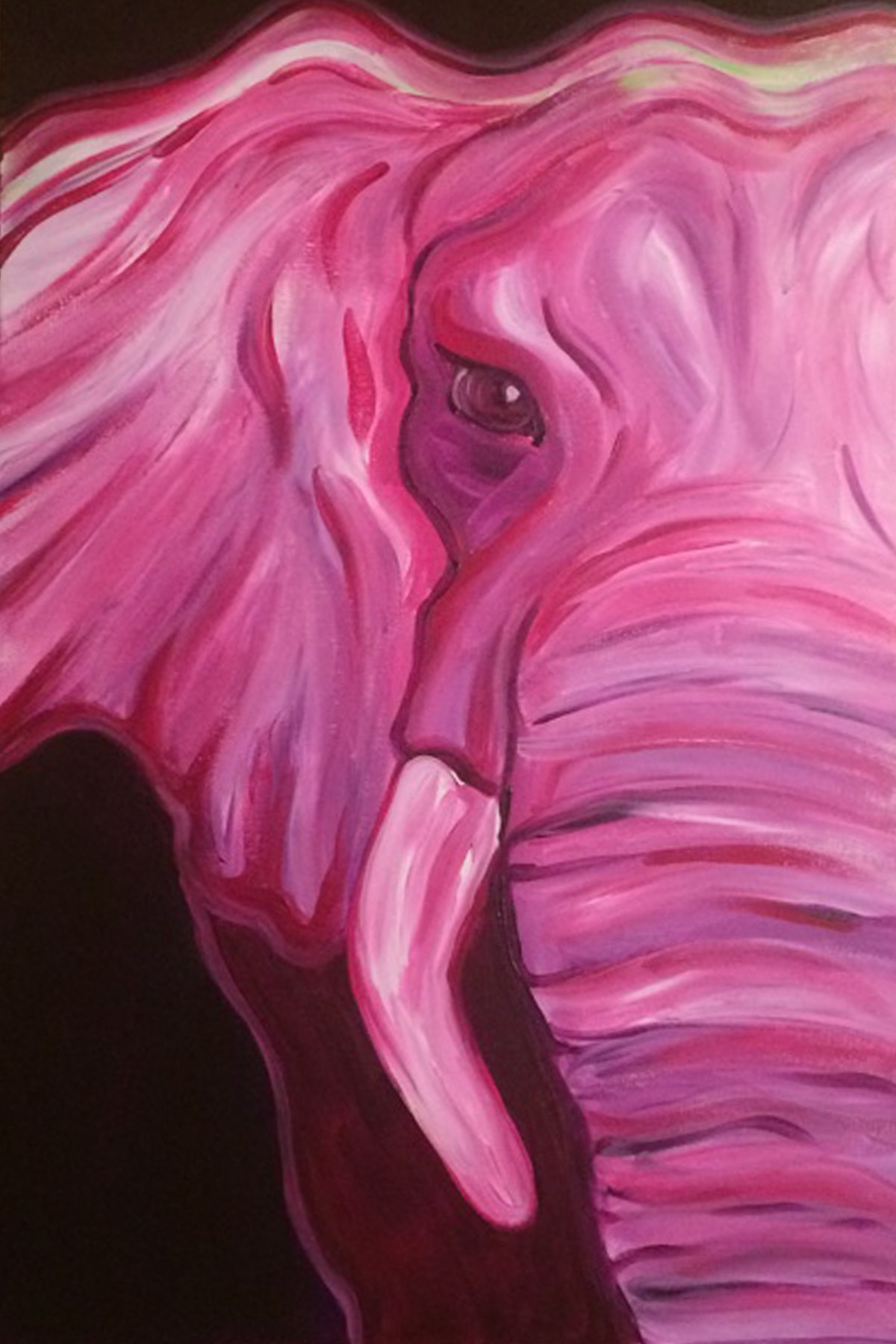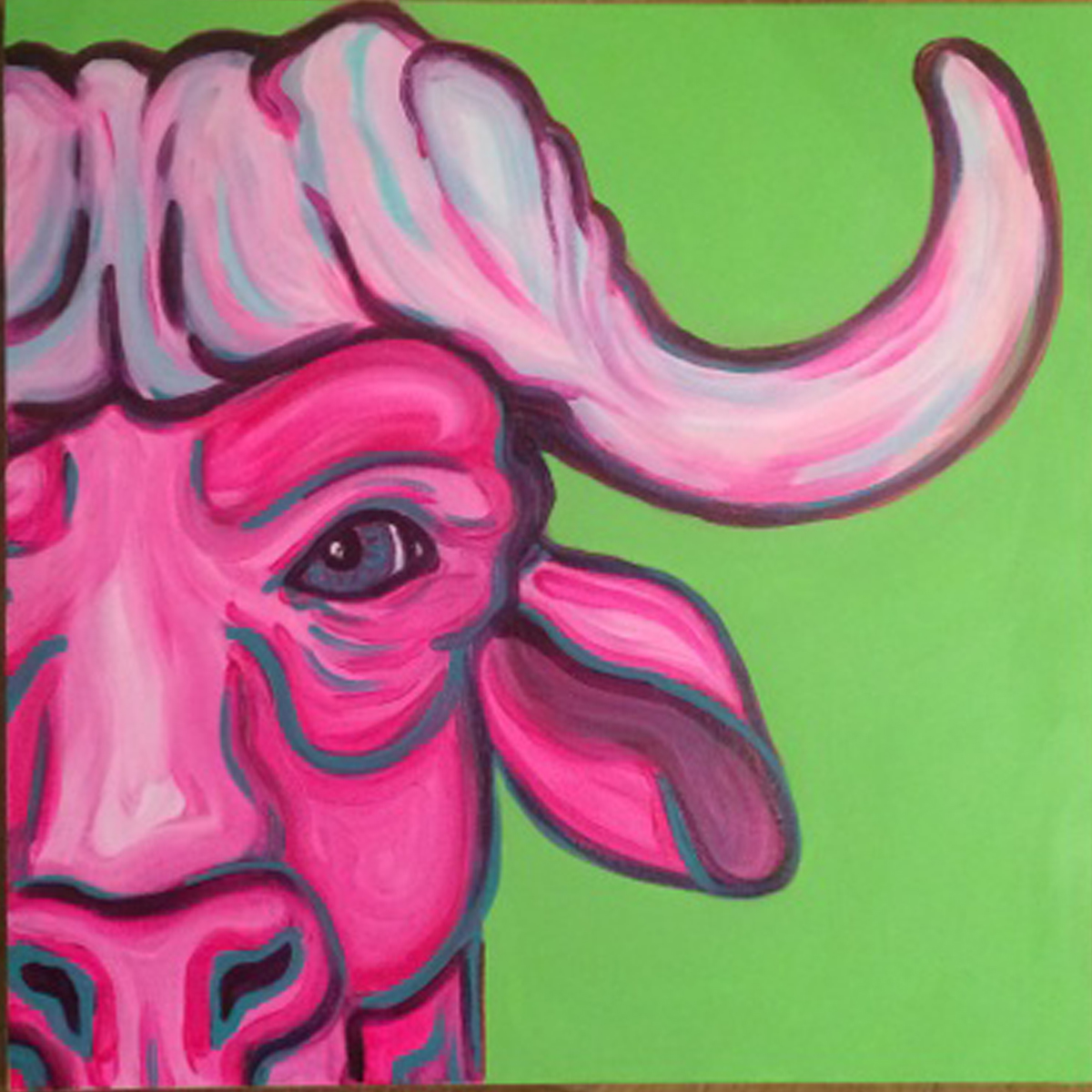 Nov 1 to Nov 30th
Heather Verplanke