The Station Coffee House & Gallery | 2016
ART Exhibitions
• See previous exhibitions
2009
|
2010
|
2011
|
2012
|
2013
|
2014
|
2015
|
2016
|
2017
Jan 1 to Jan 31st
Jarrod Barker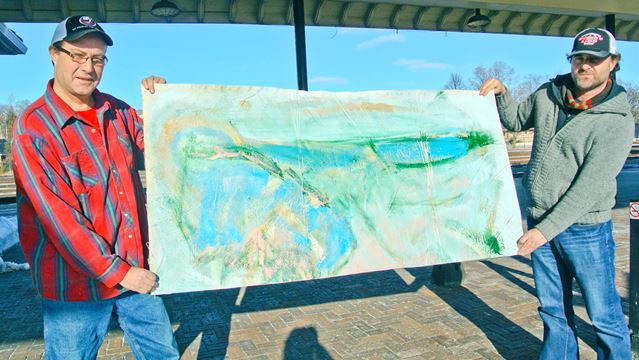 Port Dover native Jarrod Barker doesn't believe in defining art by "how pretty it is."
"I don't narrow in on one style," Barker said. "I'm just trying to create and that's always, I think, a temptation to some people. If they paint yellow birds and they are selling yellow birds for $500 a painting, they tend to end up with a whole career of painting yellow birds and that would drive me crazy."
Barker's portfolio runs the gamut from delicate plein air works and muted landscapes, to bold and vibrant paintings created with oil and a palette knife that pop with colour and texture.
All of his works are done with oil, but the outcomes are vastly different depending how thick the paint is.
"I really like the idea of abstract art and abstract impressionism," he said while setting up an exhibit at the Brantford Station Gallery. "I like to take like Mark Rothko or a (Robert) Motherwell and cross it with a (John) Constable.
"Rothko and Motherwell are 20th century abstract artists that I really like so I sort of try to combine the two styles."
Barker's varied selection of works speaks to his eclectic taste in art. Oil painting on raw canvas is among his newest form of artistic expression.
"I have a couple of friends that are artists and painters that have said this stuff has sort of a 3D aspect, it has some tooth to it," he said of the unstretched, unframed canvases.
"If I had time and I was a little more sure of how to deal with this I would maybe paste it on Masonite … I've learned to stay away from framing because people have some strong ideas about what they like in a frame."
The texture of the canvas works well with Barker's painting of landscapes, some of which are real and others that are imagined.
"They just are spontaneous," he said. "What I try to do is look at the raw canvas and it has a shape to it. Then I'll just start with colour for whatever reason I choose and it just happens. They're fairly loose and carefree … that's what's fun about them."
His landscapes take on a different dimension depending on how they are viewed. Looking closely at the painting won't necessarily bring to light their intended form, but when people step back to see them from afar, they begin to take on a new shape.
"I find my stuff really works when you're far away from it," Barker said. "Sometimes it's a hard sell because people are used to seeing things that are really detailed, but to me, I like it."
Barker likes to go with the flow when creating his art and never really knows how it will take shape until he gets into it.
"People have been conditioned to look at realism and equate that with good work," he said. "To me, it just flows … it's very loose and a lot of people would have no idea what it is, but other people pick it out right away."
Barker – who now resides in Simcoe – is also known for his publication the Silo, which has recently gone to a complete digital format. His works will be featured at the Brantford Station Gallery, 5 Wadsworth St., throughout the month of January.
"The Station is like a cultural spotlight, it's important to have places like this to get you on the map and grow," Barker said.
Feb 1 to Feb 29th
Jason Speakman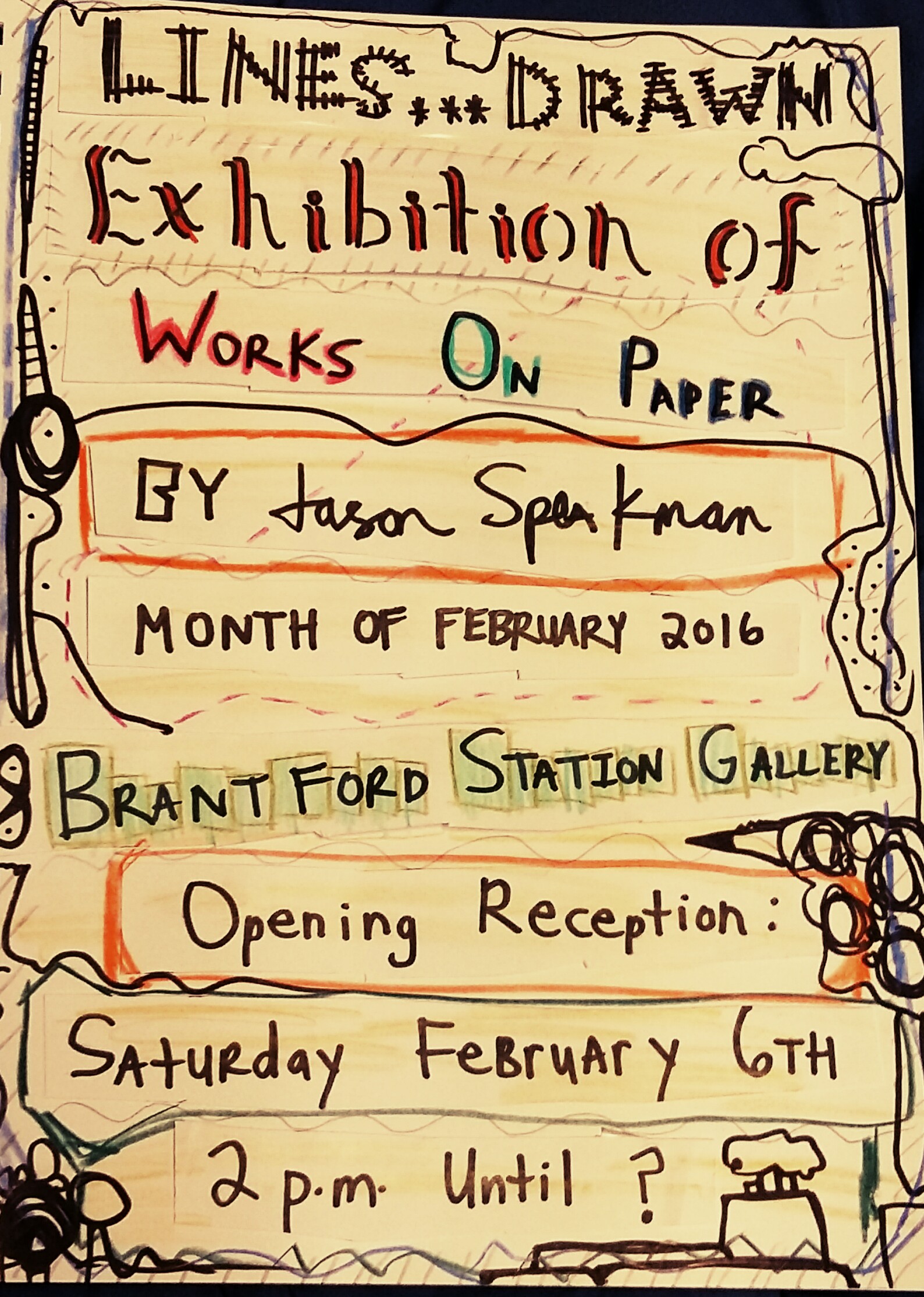 The artist has been influenced by writing and music, experimental and alternative. By spoken word and performance. His lines drawn are in a sense small performances. The hand and mind dancing to rhythms in a performative manner-revealing forms like small surprises, insights into the unseen. Speakman is self-taught, working with a variety of mediums for some twenty five years. A practice definitely leaning towards the sensibilities of the 'outsider artist' although he has been exposed to and taken interest in "Art", his work is as personal as it is consistent with his own particular vision. It is easy to take in these works all at once, and 'get it' yet one can always return and find some new passage to entertain or enlighten.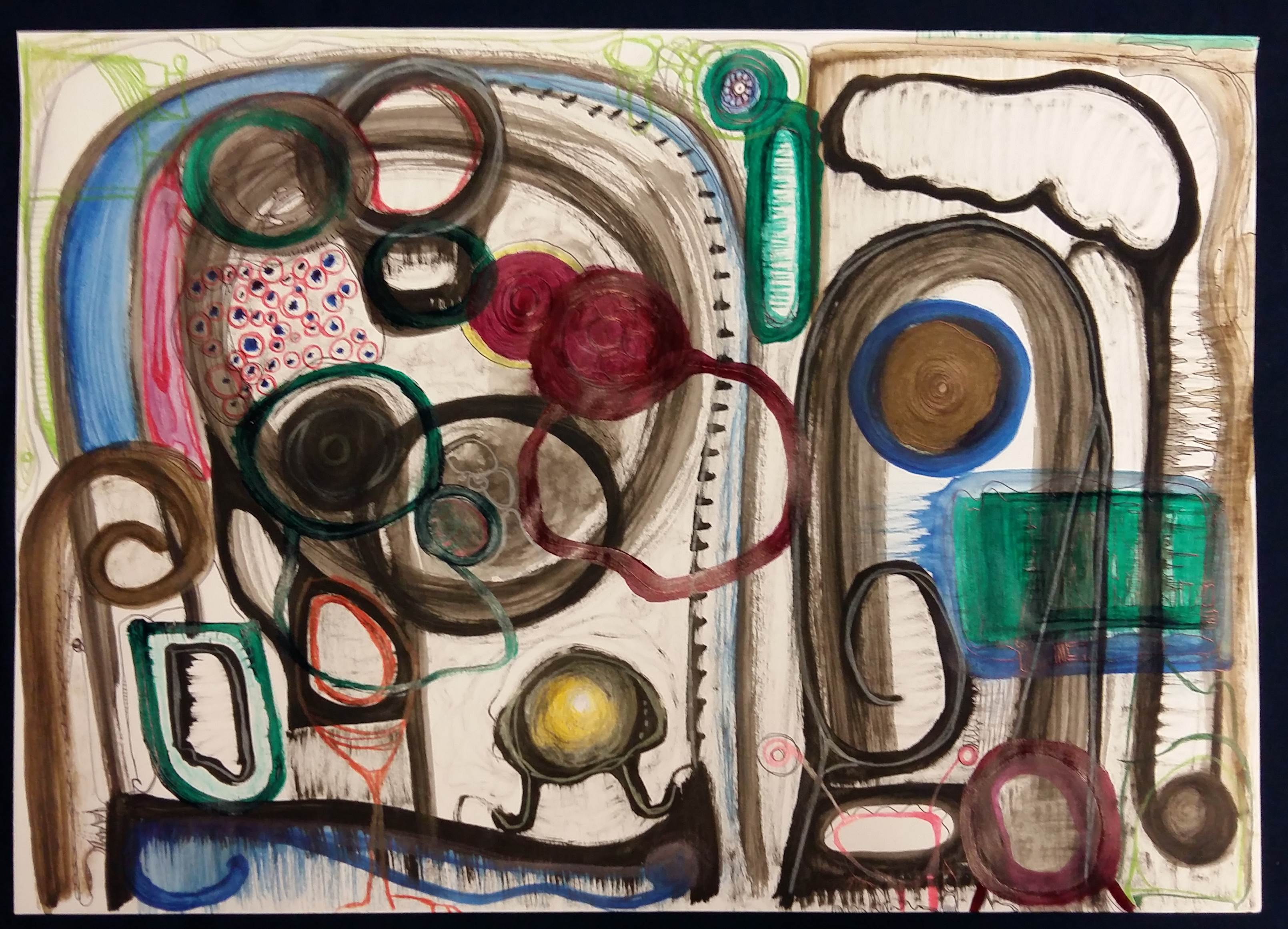 Mar 1 to Mar 31st
Carol Ann Conlinn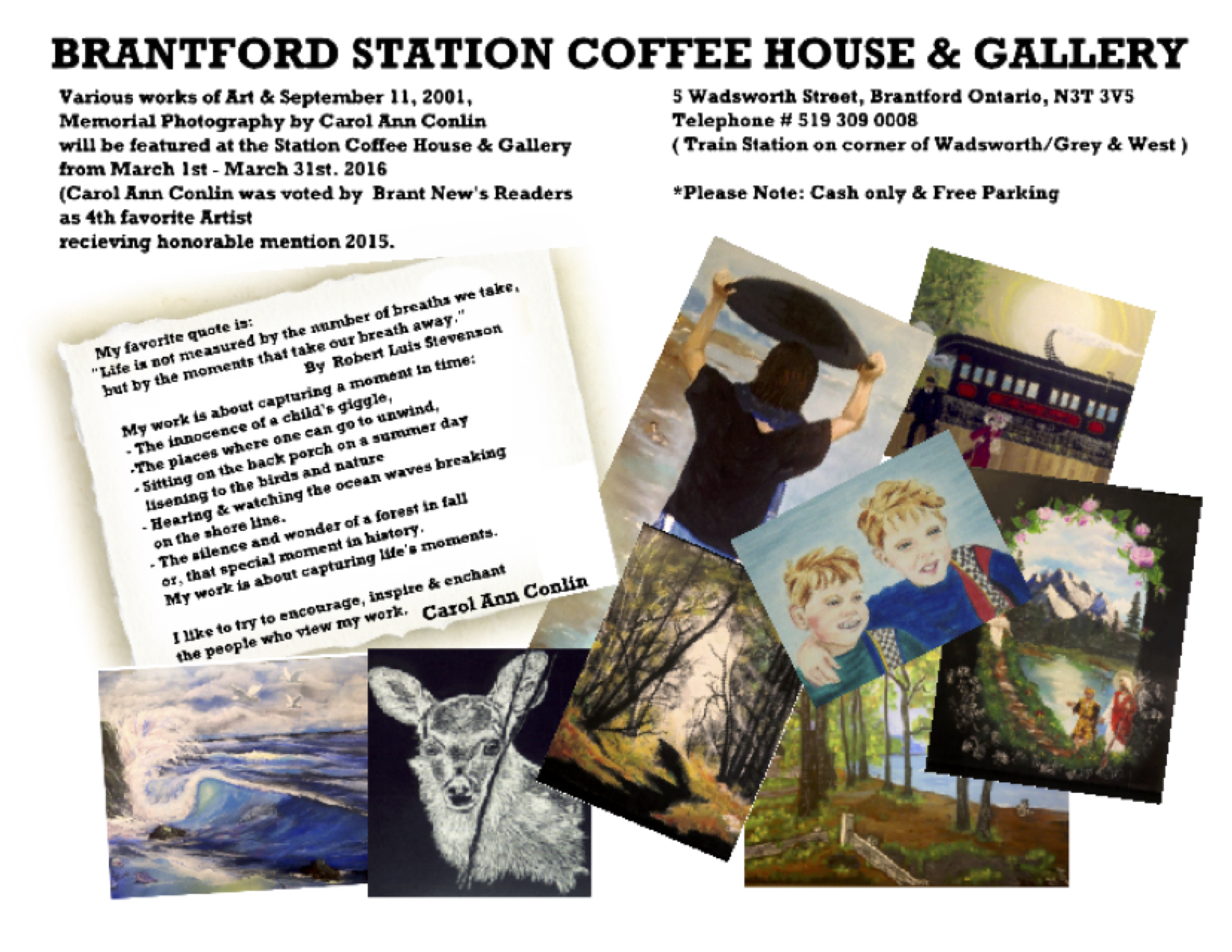 Apr 1 to Apr 30th
Harry Wagstaff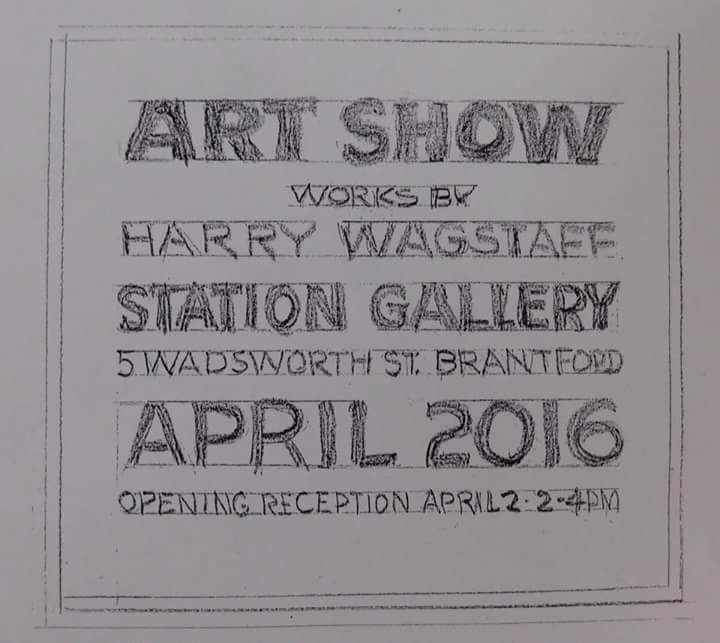 The Brantford Station Gallery is celebrating 7 years of bringing Art to Brantford.Over the years the Station has held over 80 exhibitions.Many local artist have shown at the Station as well as Art groups,and artists from Hamilton and Toronto.

The next Art show (April 2016) will feature 39 original acrylic paintings by local artis Harry Wagstaff. Mike Tutt has been trying to get Wagstaff to hold a solo exhibit for years now,and says "he is one of his favorites".

Wagstaff moved to Brantford from Hamilton in 1962 to take a job at Dominion Sign,where he worked as a graphic art director,along side Mike Tutt's grandfather Jack Northover.

In 1976 Harry entered one of his drawings into a competion held here in Brantford to pick a logo for the City's Centennial year (1977).His image was chosen amongst 50 other entries and appeared on many different items that year (many of which,including the original drawing will be on display at the Station). His style of painting is very disiplined and includes many different animals and birds.Some have an abstract quality,and he is always looking for new ideas. One piece pays homage to the Group of Seven,in particular Lawren Harris,and is titled After Seven,and features an eagle with a winter landscape very reminisent of a Harris painting,done with the Wagstaff flair.

Art Show,Harry Wagstaff officially opens Saturday April 2, 2-4 pm.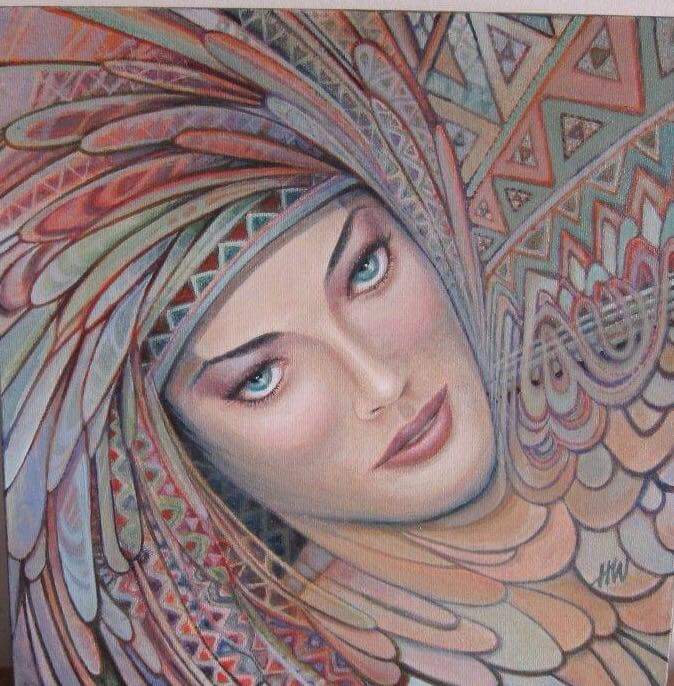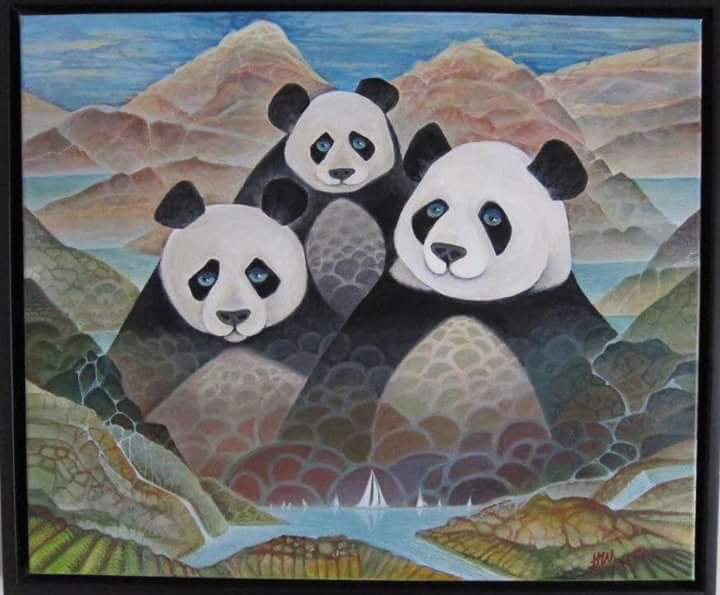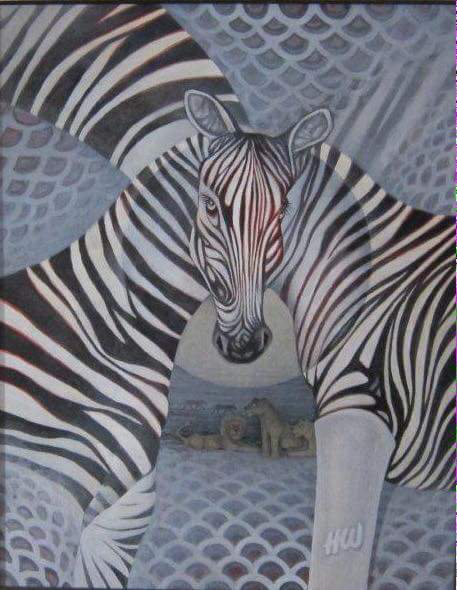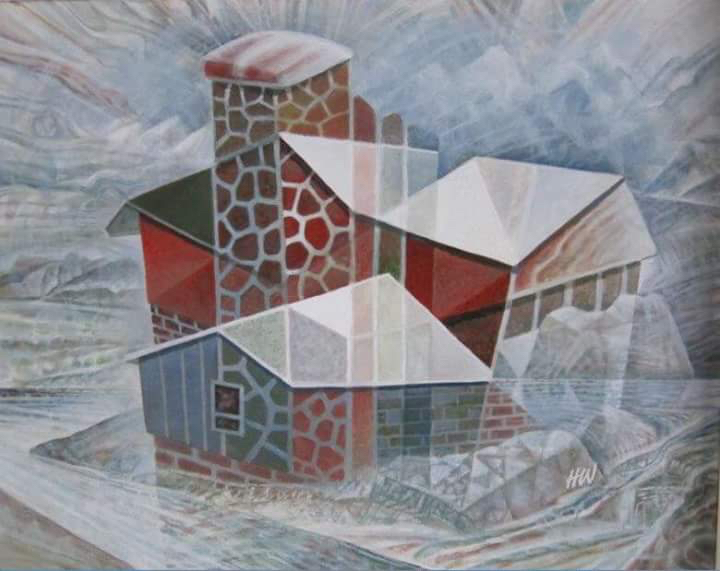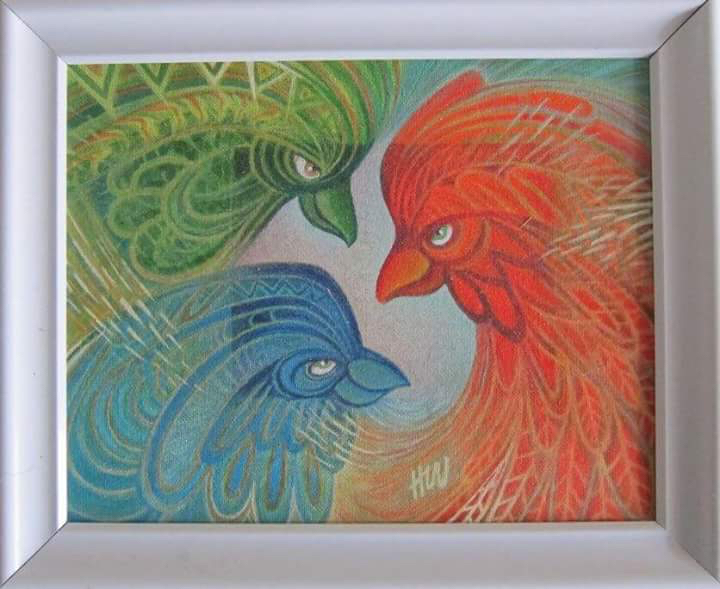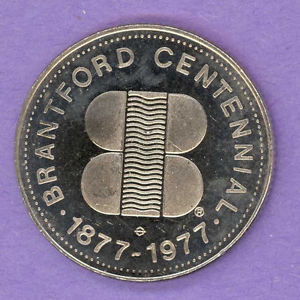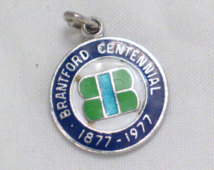 Aug 1 to Aug 31st
Brant Visual Artists Guild
Brantford Station Gallery is pleased to present a new Exhibition featuring the Brant Visual Artists Guild. The exhibit includes various styles of art done in oils, acrylic and watercolors. Artists in the show include Barb Kroetsch,Peg Jackson, Mike Gough, Pam Leyland, Cathy Grieve and Diane Watkins (and many more).The works can be viewed Monday to Friday 7am -3pm for the month of August.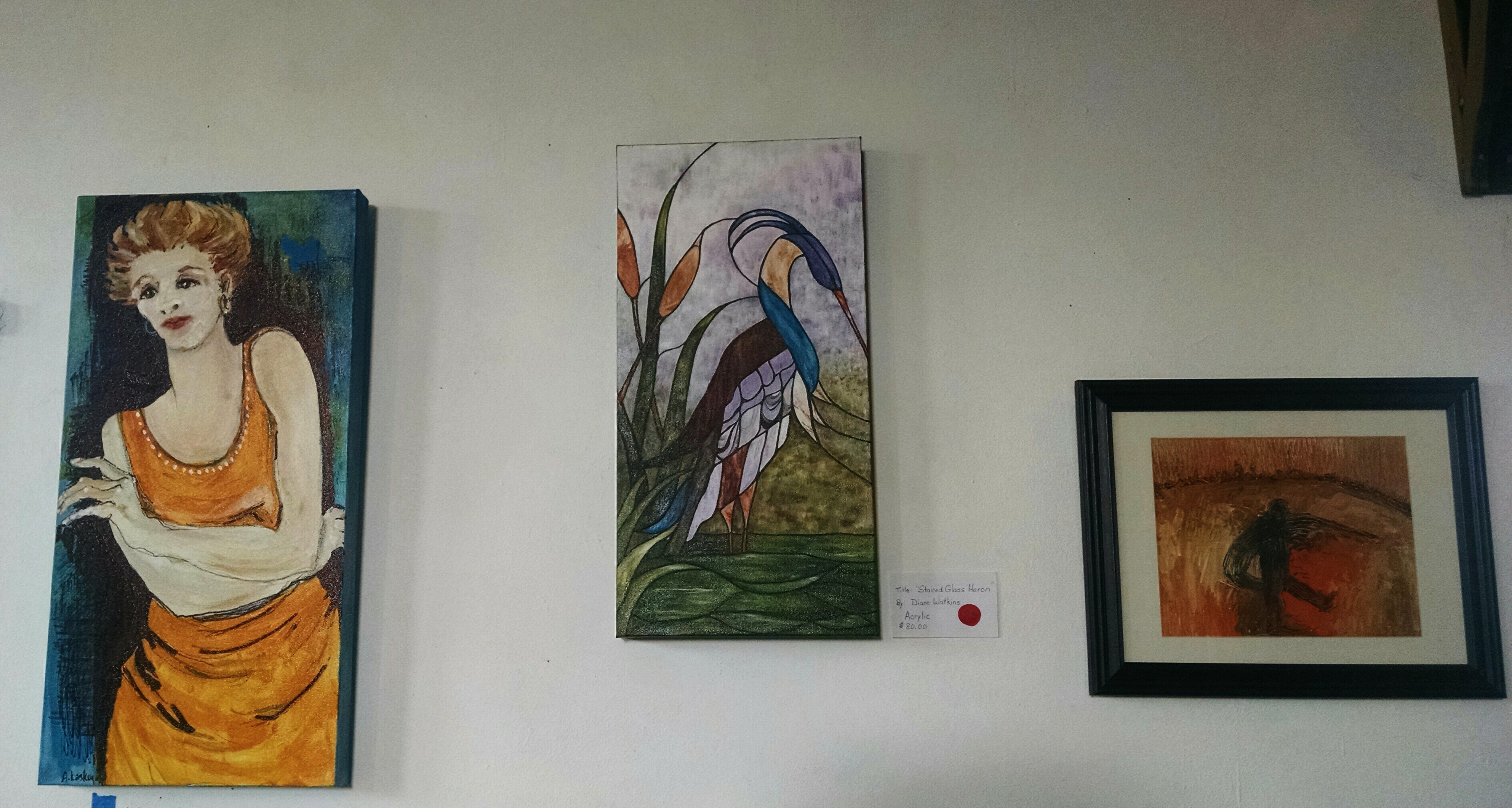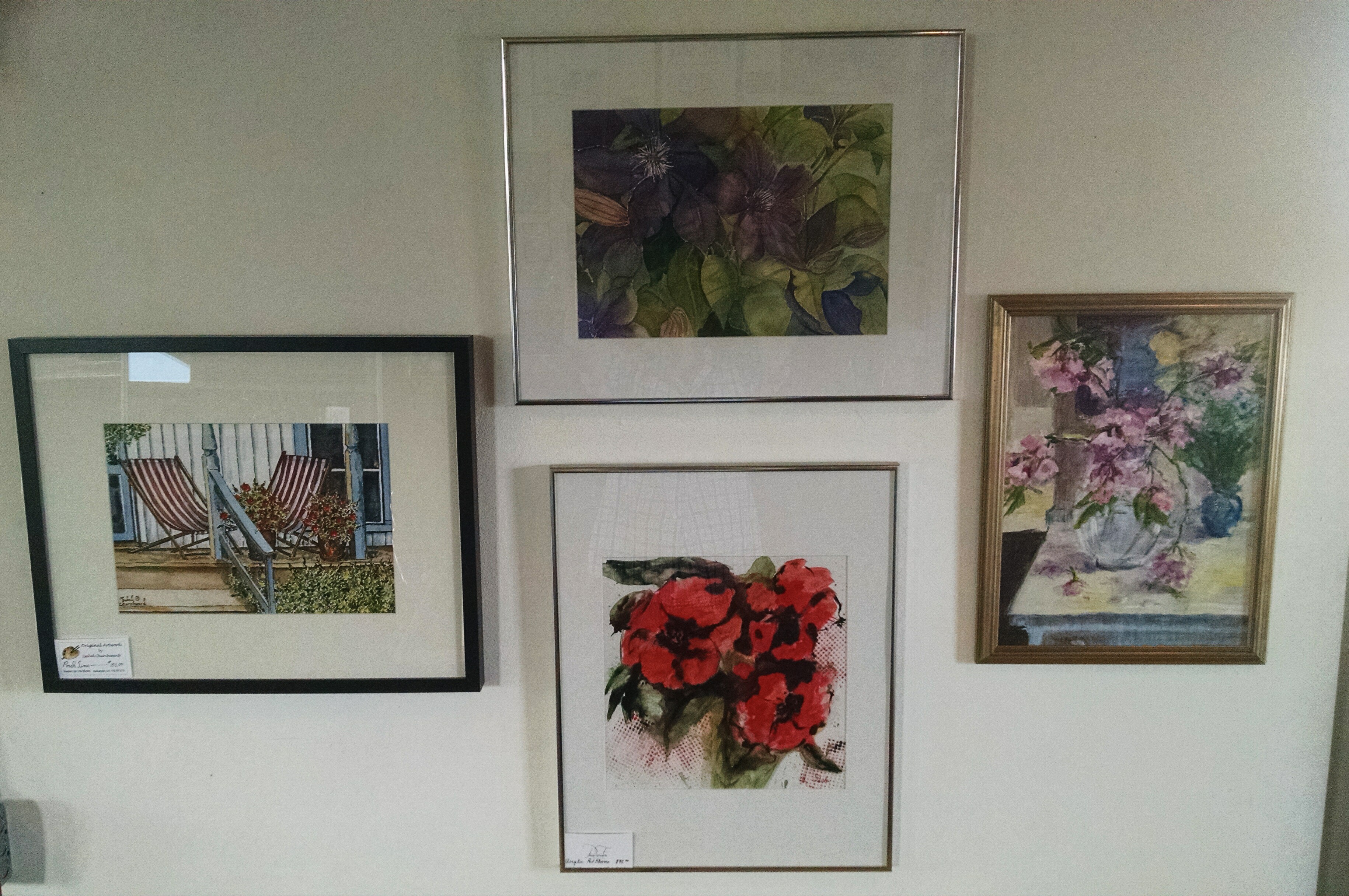 Sep 10 to Sep 30th
Barbara McGivern
Through her art, artist McGivern aims to create an explosion of energy, to generate an electric shock to the senses. Experiencing one of her paintings is to awaken the uninhibited child-like freedom that is within us all, a freedom that before now, has been lying dormant.
?Navigating the fine line between a world that is the familiar and recognizable and one that is brighter and more beautiful, McGivern takes her viewers through an emotional journey that is uplifting and energizing. Viewers are encouraged to explore each piece through their individual experiences and unique eyes, to create their own narrative.
?Guided by McGivern, viewers are reminded that when the pillars of modern daily life are minimized, a world of wonder, dreams and magic still exists.
?Communication takes place beyond the obvious and space is experienced, not passing us by as time would want us to believe. When we realize this, we are left with an uncanny affinity to what was at first a totally alien environment. The space between the painter, the painting and the viewer is now diminished by the harmony of the image, allowing the viewer to make the experience completely their own.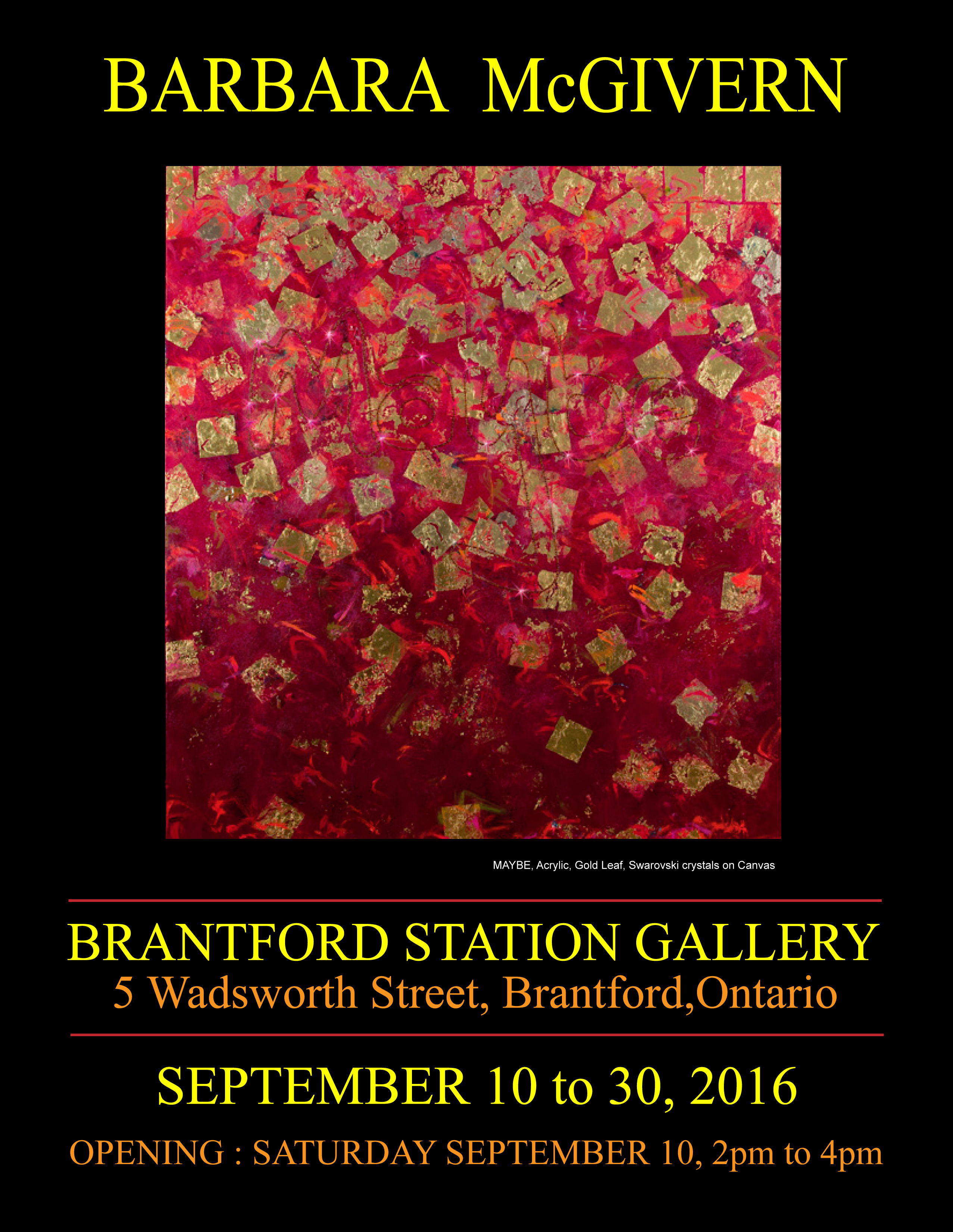 Oct 1 to Oct 31st
Edmund Prior
Together with the Provincial recognition being paid to Brantford born artist Lawren Harris, we are pleased to present the original paintings of Edmund Prior. A homage to the Group of Seven and Lawren Harris.

Please see attached poster and bio of artist. To speak with artist (647) 466-0118.

Brantford Station Gallery - Lawren Stewart Harris, CC (October 23, 1885 – January 29, 1970) was a Canadian painter. He was born in Brantford, Ontario, and is best known as a member of the Group of Seven who pioneered a distinctly Canadian painting style in the early twentieth century. A. Y. Jackson has been quoted as saying that Harris provided the stimulus for the Group of Seven. During the 1920s, Harris's works became more abstract and simplified, especially his stark landscapes of the Canadian north and Arctic. He also stopped signing and dating his works so that people would judge his works on their own merit and not by the artist or when they were painted. In recognition of Lawren Harris the Station Gallery presents an exhibition of original paintings by Toronto artist Edmund Prior paying homage to Harris and the Group of Seven.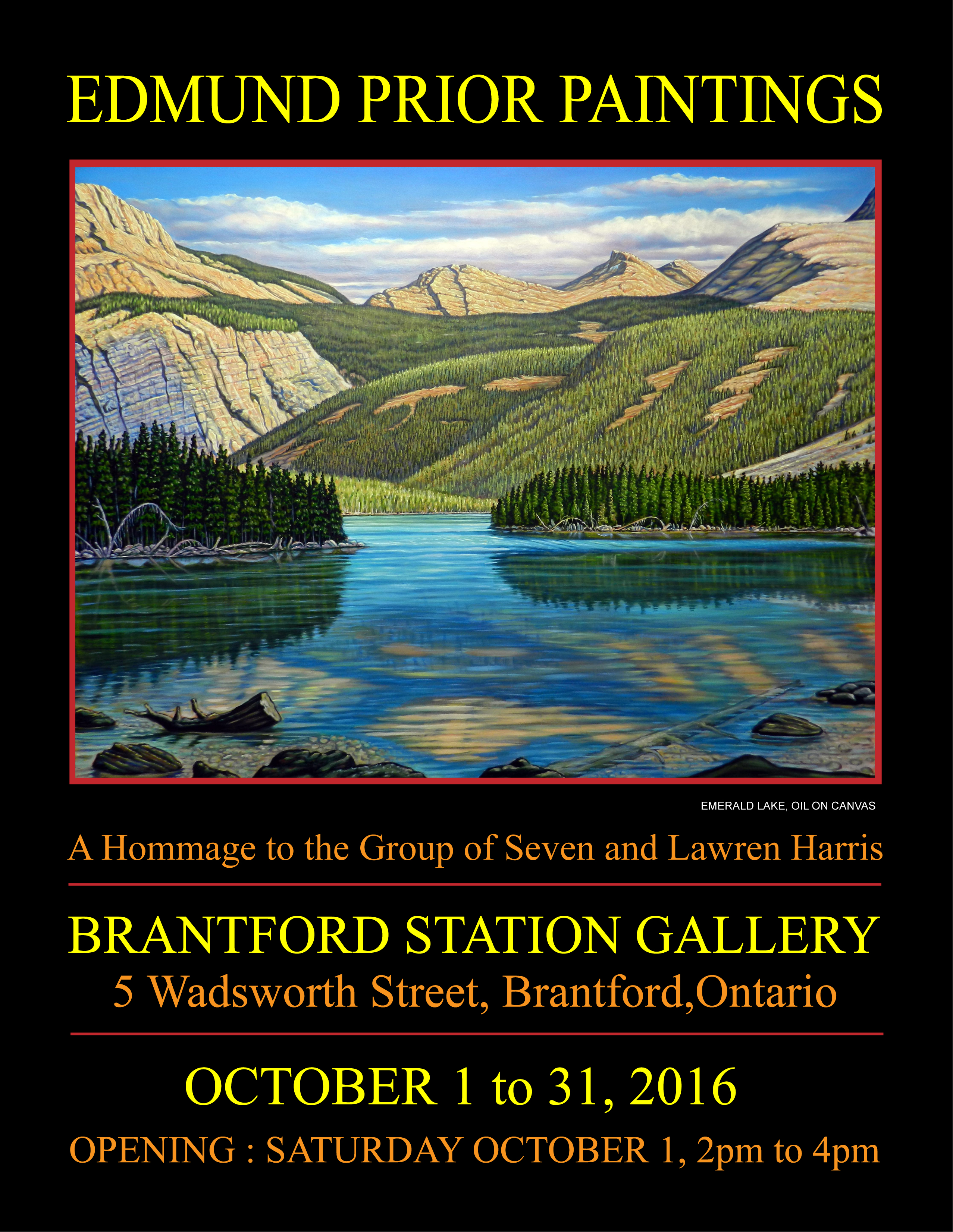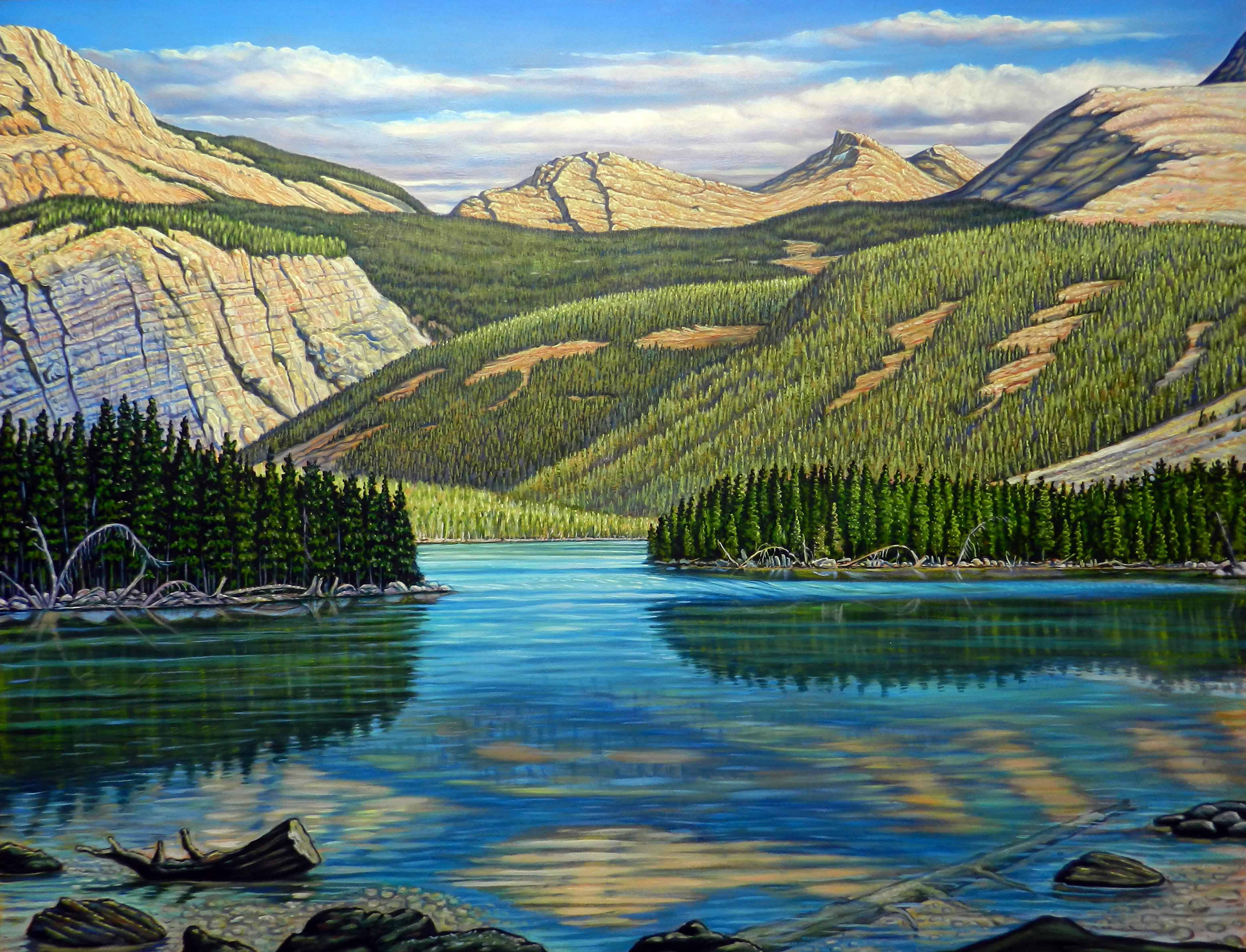 Profile

Edmund Prior is a realist, figurative painter who has developed oil techniques based on his studies of old master paintings in the great museums of Europe. He continues to exhibit his work in solo and group exhibitions in different venues, including public galleries and museums. Most recently, Ed's painting, "Alice Prior" was one of 30 finalists chosen for the Kingston Prize, the biennial Canadian portrait competition sponsored by the Weston foundation. This touring exhibition includes a stop at the Royal Ontario Museum from November 2011 to January 2012. Ed has also executed private and corporate commissions for portraits in oil and murals in acrylic. Ed's graphic design activities have included digital design for high end silk screening in the textile industry using Adobe Photoshop, Adobe Illustrator, and Coreldraw. In addition to this he has done free lance illustration. Most noteworthy is the editorial illustration he has done for leading magazines, including cover art. He has also done spot and product illustration for advertising agencies. At the same time Ed has continued to upgrade and perfect his painting and drawing techniques over a career spanning 30 years.

Artist's Statement

"There are few more satisfying and emotive experiences than making marks on a piece of paper or canvas. The process of becoming an artist is realized in embracing the set of disciplines whereby one learns to give his marks greater tangible and universal meaning to a wider audience over a longer period of time. As a passionate and dedicated artist, I am convinced that conveying a sense of creativity, craft and a connection to tradition is vital for educating a new generation of visual thinkers in all areas of art, contemporary image making, and interdisciplinary design. "

Current Focus
Portrait and Figurative Painting
Classical Oil Painting Techniques
Life Drawing
2d and 3d Computer Graphics
Education
BA University of Guelph, Fine Art: 1984
Ontario College of Art, off-campus program in Florence, Italy: 1977,1978
AOCA Ontario College of Art, Fine Art major: 1978
Dec 1 to Sep 31st
Snow Show 2016